About AccuTec Blades Inc.
Designs and Engineers Precision Blades.
SHOP ALL
TOP CATEGORIES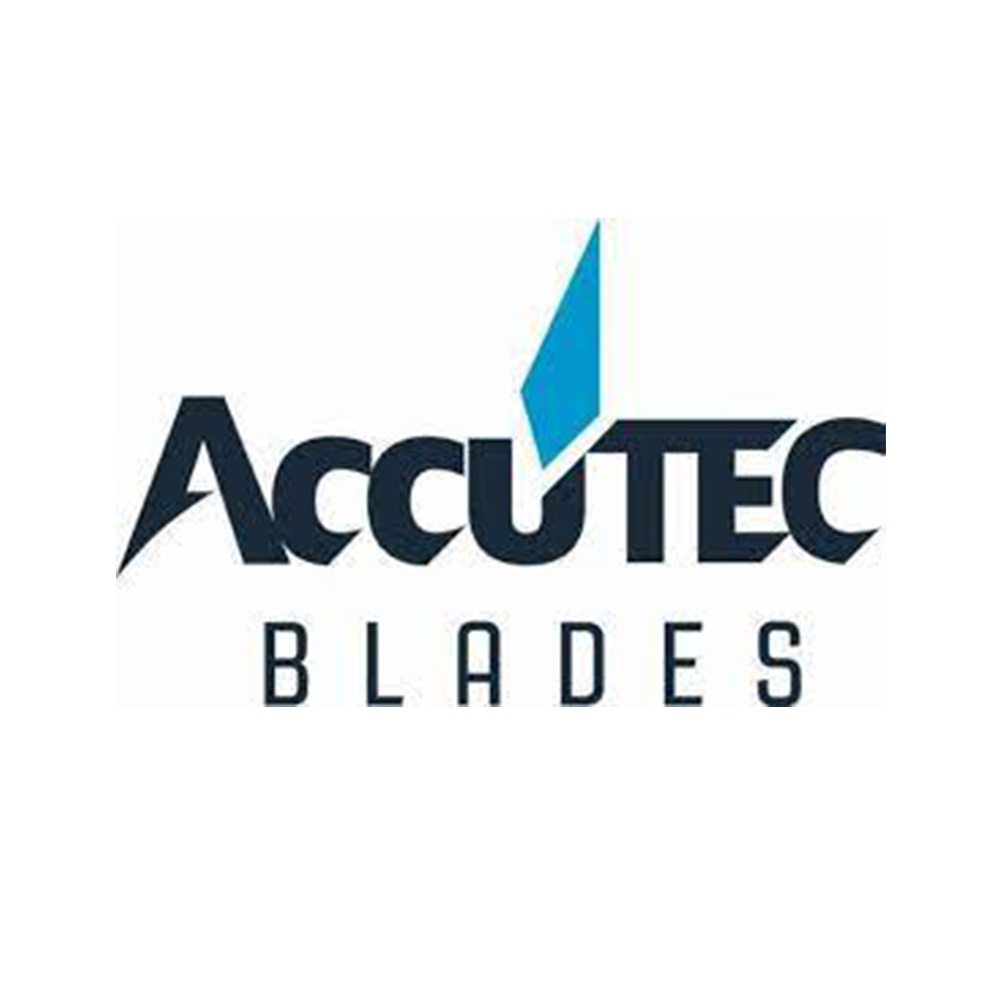 OVERALL CUSTOMER RATING
Company Profile
AccuTec is known for designing and engineering precision blades in global partnerships with manufacturers and distributors of material processing equipment. AccuTec Blades has its headquarters and manufacturing facility in Verona, Virginia. Also, the brand has a second manufacturing facility in Obregon, Mexico. All along, the brand has provided OEMs, manufacturers, and distributors with specialty blades that improve quality and efficiency to best serve their customers. Today, at every step—from concept to customer—AccuTec Blades continues this honorable tradition that reflects the best American invention and ingenuity.
AccuTec Blades ensure the quality of its products by using premium raw materials, exceptional manufacturing, rigorous testing, and precise control measures. Today, the brand's products step up to the demands of highly advanced enterprises requiring high performance blades and bladed tools. Find a range of AccuTec Blades Inc. products here at DK Hardware.

The company has been built on innovative design engineering. The brand started when Star Razor company sold its first edge safety razor in 1875. The brand also played a part in World War II by shifting production from razors to ammunition until peace was declared. After the war, the company's industrial engineers were tasked to lay out an ideal production facility when the company shifted in 1947 from Brooklyn to its current location in Verona, Virginia. In 2015, the brand adopted a name that personifies precision engineering – AccuTec.
Keeping the Passion Alive
The brand is already a recognized leader in innovative histology, surgical, food, dermatology, fiber, glass, flooring, DIY blades, and bladed solutions. It keeps actively planning for what its customers will need in the years to come. The brand recognizes that new ideas encourage new opportunities, and success promotes success. In this spirit, the brand offers its valued customers its expertise, experience, and exceptional blades. 
While operations continue in our Virginia headquarters, the brand also services the South and Latin Americas from Obregon, Mexico. The brand's legacy Personna brand is known worldwide by specialty, retail, and medical professionals. Its single and double-edged razors are used for different applications and have an established reputation for quality. In addition, AccuTec also supplies private label blades and bladed tools on an OEM basis to top food processing companies and through master distributors.
The brand's good reputation is built upon providing outstanding products that make its customers' jobs easy. This is the driving force for the brand's success and its future. The company's Personna heavy-duty floor stripper is ideal for surface preparation before installing various flooring products. It provides exceptional comfort during prolonged use thanks to its large bulb handle end. It also has a durable steel body for long life.
Resources
Address
1 Razor Blade Lane
Verona, Virginia 24482 United States
Contacts
Email: customerservice@atblades.com
1-800-336-4061