About ACME UNITED CORPORATION
Major supplier of cutting devices, hunting and fishing tools, and first-aid products.
SHOP ALL
TOP CATEGORIES
BEST SELLERS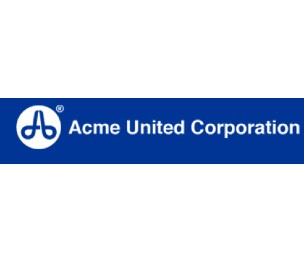 OVERALL CUSTOMER RATING
Company Profile

Since its founding 150 years ago, ACME United Corporate Services has become the biggest scissor manufacturer in the world. ACME is a major supplier of cutting devices, hunting and fishing tool, and first-aid products, for school, home, office and industrial use. We are proud of our deep history, foster a culture of innovation and are excited to continue building the kind of company that attracts top talent.
ACME United is proud to provide career advancement opportunities for its entire employee base. The company does so by instilling an entrepreneurial and innovative spirit that allows individuals and category teams to make meaningful differences in their communities.

ACME United has roots dating back to 1867, when German immigrant Leo Renz bought an old grist mill in Naugatuck, Connecticut. He transformed it into the very first Renz Shear Shop to manufacture scissors and cast-iron shears.

ACME United owns several famous brands, including Camillus, Clauss, Cuda, DMT Sharpeners, First Aid Only, PAC-Kit, PhysiciansCare, Spill Magic, Westcott, and Western. The company provides for 350 employees across 11 facilities around the world.

ACME United develops cutting tools, measuring instruments, first aid and safety products that bring innovation, new technology and accessibility its customers.
Prompt communication and same-day shipping makes ACME United a customer favorite. This superior customer service sets it apart from its competitors and keeps people shopping with ACME.

Resources
Address
1 Waterview Drive, Suite 200
Shelton, Connecticut 06484 United States
Contacts
Email: customerservice@acmeunited.com
2033327330