About Adams Manufacturing Corporation
L
eading manufacturer of R
esin Furniture and Accessories
.
SHOP ALL
TOP CATEGORIES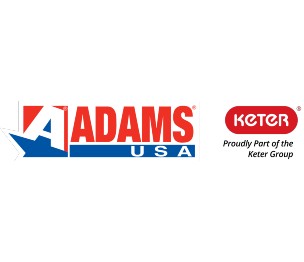 OVERALL CUSTOMER RATING
Adams Manufacturing Corporation is the leading manufacturer and innovation of high-quality resin furniture and accessories. It is a private company founded in 1976 and officially incorporated in 1981. The company is also one of the world's leading suppliers of high-quality suction cups. It serves both commercial and residential markets. Adams Manufacturing's primary customers include some of North America's largest hardware and big box retailers. Also, the company services major hospitality and commercial accounts.
Adams Manufacturing Corporation is headquartered in the small town of Portersville, Pennsylvania. Its other support facilities are spread throughout the region. The company's state-of-the-art manufacturing plant transforms resins into various products sold online, to hardware retailers, and to leading mass merchants worldwide. Adams Manufacturing was acquired by Keter Group in 2018, marking the beginning of a new era in the company's history. Today, the company proudly creates some of the most innovative products on the market. Find a range of products from Adams Manufacturing Corporation here at DK Hardware.
After his service in Vietnam, the company's founder Bill Adams started working as an elementary school librarian in the Pittsburgh Public Schools. With a modest $10,000 inheritance in the late 1970s, he resigned from his job to concentrate on growing the suction cup business.  
He started selling suction cups from a 1976 Chevy Chevette. This enabled retailers to put signs in their windows without leaving behind sticky tape residue. Due to the high demand for these products, the company quickly expanded nationwide and started selling to well-known hardware, craft, variety, and office supply stores. The Chair RealComfort Frame, Quik-Fold Rectangular Resin Folding, and Wreath Holder are some of the company's top products.
Over the years, Adams Manufacturing Corporation's product lines have expanded from suction cups. The company now manufactures garden & holiday hardware products, folding & stacking outdoor furniture, and Adirondack chairs in a dozen colors. The latest addition to its ever-increasing assortment of furniture line now includes furniture made to accommodate individuals with larger proportions. The company keeps enhancing its product lines with modern features like multi-purpose cups and accessory holders.
Resources
Address
109 West Park Road
Portersville, Pennsylvania 16051 United States
Contacts
800-237-8287
724-368-3625