About Airmaster Fan Company
Manufactures high-quality and reliable air circulation/ventilation products.

SHOP ALL
TOP CATEGORIES
BEST SELLERS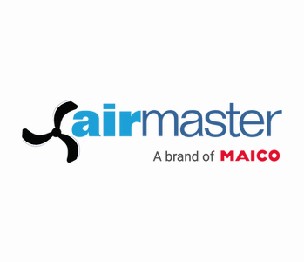 OVERALL CUSTOMER RATING
Airmaster Fan Company is known for manufacturing reliable air circulation and ventilation products. It was established in 1886 as the Diehl Fan Company when it patented the first electrical fan. Over the next 100 years, the company acquired the Brundage, Chelsea, and Power Line Fan companies and marketed each brand separately. In 2002, all these brands were combined under a single entity, Airmaster Fan Company, to streamline the operations, sales, and marketing of circulation and ventilation products. In 2013, Airmaster Fan Company was purchased by another family business, the Maico group. The Maico group is a world-renowned leader in ventilation products and is known for its product quality, reliability, and reputation. This acquisition helped Airmaster to bring additional new market opportunities, fan innovation, and product expertise to the market.
Airmaster is a family-owned business, constantly striving for the highest quality air circulation/ventilation products. Its exceptional service, integrity, on-time delivery, and competitive prices are the cornerstones of its business philosophy to provide the best value for its customers. The company wants to be recognized as the preferred supplier of complete air circulation/ventilation solutions in North American and other global markets.​ You can find a range of products from Airmaster Fan Company here at DK Hardware.
Today, Airmaster fans manufactures and designs high-quality circulation and ventilation products and warehouses them in Clarklake, Michigan. The company also maintains stocking warehouses across the United States to keep people, processes, and plants cool. Airmaster Fan exports its products worldwide and offers the most extensive line of air moving equipment in North America. The company's goal is to be the choice supplier of complete ventilation, air circulation, and heating solutions in North America and other global markets. Airmaster Fan values its relationships with its customers and works continuously to provide them with exceptional quality circulation/ventilation fans. 
Airmaster Fan is dedicated to producing high-quality goods for its customers. The Airmaster fans offer health, safety, and comfort by providing cooling action necessary to keep employees happy and productive, especially during summers. The company's air ventilation products, such as panel fans, pivot stand fans, roof ventilators, louvers, and shutter fans, are perfect for making your building breathe properly. Also, for chilly weather, Airmaster provides electric heaters to keep employees warm at workstations or even in offices/retail where additional heat is desired. 
Resources
Address
9229 S. Meridian Road
Clarklake, Michigan 49234 United States
Contacts
Email: sales@airmasterfan.com
517-764-2300