About ALBANESE CONFECTIONERY GROUP I
SHOP ALL
TOP CATEGORIES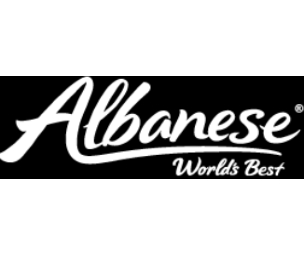 OVERALL CUSTOMER RATING
Albanese Confectionery Group is a confectionery manufacturer, retailer, and distributor. The company has been making the World's Best Chocolates and Gummies in the United States by using its simple recipe for success: putting texture and flavor first, always finding a better way, and never taking itself too seriously. Albanese chocolates and gummies taste different because it is different. The company's chocolates, gummies, and nuts are made at its factory in the heart of the Midwest. The company only uses premium ingredients sourced exclusively from American and European growers to produce the highest quality products. Although the company is best known for its 12 Flavor Gummi Bears®, it has a lot of fan favorites.
The knowledgeable staff at Albanese is always on hand to assist consumers with ordering products. Their team's knowledge allows customers to order products from them with ease. The company specializes in worldwide shipping, and its foreign customer care representatives are certified in providing the help you need. You can find a range of products from Albanese Confectionery Group here at DK Hardware.
In 1998, Albanese invented a new technology to allow for greater flavor release from gelatins. Through constant experimentation, the company could add more sour flavor to its gummies. In 2002, Albanese Confectionery won the Professional Candy Buyer's Product of the Year award, recognizing its innovation in gummi candies. In 2003, the company brought back the lost art of rotogravure printing for use on all its packaging. The company's top products include Sour Bears, Gummi Bears, Sour Gummie Candy Fruit, and Gummi Candy Peach. 
Over the next few years, Albanese Confectionery went on to win many awards for its innovation in this field. In 2003, the company won the Product of the Year award. In 2006, Albanese received the prestigious Technology Award for developing the process of placing Omega 3 Fish Oil into a gummi. In 2006 and 2008, the company was nominated again for the Product of Year in the non-chocolate category.  
In 2007, Albanese developed the first probiotic gummi ever to be made, beginning the journey to becoming a large-scale, private-label Gummi Nutra Producer. In 2011, the company received approval by the FDA for a Vegetable/Fruit snack for the school lunch program, exceeding the most demanding State requirements. In 2011, the company was awarded the Buyer's Choice. In 2012, the company developed ice cream and chill that does not freeze in ice cream. In 2014, Albanese launched the World's Best brand, which includes various innovative gummi sizes, shapes, and flavors. In 2020, the company launched the Ultimate Albanese Gummi Bears™. In 2020, wins first place at ECRM Buyer's Choice Awards in the Best Non-Chocolate Category for Ultimate™ 8 Flavor Gummy Bears.  
Resources
Address
5441 East Lincoln Highway
Merrillville, Indiana 46410 United States