About ALEXANDRIA MOULDING INC
Moulding to Your Lifestyle since 1943. 
SHOP ALL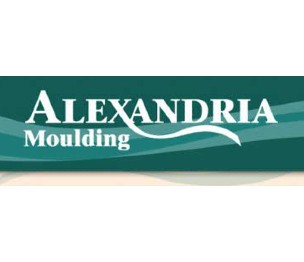 OVERALL CUSTOMER RATING
Alexandria Moulding Inc. is a leading molding manufacturer and distributor of wood composite moldings in North America & the world. The company has five domestic Mega Centres that look after its manufacturing and distribution requirements: Alexandria East (Canadian East Coast Manufacturing & Distribution), Alexandria West (Western Canada & American Pacific N.W Manufacturing & Distribution), Alexandria Mid-West (American Mid-West Distribution), Alexandria North East ((American N.E. Distribution), and Royal Woodworking (Hardwood Manufacturing). Alexandria's U.S. Operations employ around 250 individuals, while Alexandria's Canadian Operations have approximately 580 employees. The company's Canadian and U.S. operations manufacture and distribute quality wood, MDF moldings, and millwork products to the residential areas throughout the North American market. The company is also engaged in molding an environment in which it, along with its clients, employees, and suppliers, may successfully meet the challenge of progress together.
Alexandria Mouldings has grown into Canada's largest wood molding manufacturer and is also North America's leading Manufacturer-Direct retail marketer and distributor of moldings. The company is committed to a higher form of customer support. The company's team of experts is available to help with projects, big or small. They know all about Alexandria Moulding products and will serve you with care. You can find a range of products from Alexandria Moulding Inc. here at D.K. Hardware.
Alexandria Moulding was established as a small retail building supply store in 1943 by its founder Mr. Rolland Cholette. In 1948, the company expanded to include the manufacture of Window Sashes and Doors. It added interior wood moldings to its catalog in 1952. After a devastating fire in 1955, the management decided to discontinue the building supplies trade and concentrate on manufacturing. Moulure Alexandria was incorporated under the laws of the Province of Ontario as Alexandria Sash & Door CO., Limited in September 1955. 
Rolland's two sons, Guy Cholette and Ronald, joined the company as Vice President and President, respectively. They occupied these positions until their retirement on October 31, 1997. While rebuilding the company, they decided to concentrate the entire operation exclusively on the production of wood moldings. The company's top products include Peg Board, Lumber, Fiberboard, and Casing, to name a few.  
In 1989, Alexandria Molding Inc.'s expansion plans led to the building of a plant in Moxee, WA, which became operational in April 1990. On February 27, 1998, the companies were registered as Moulure Alexandria Moulding Inc. On November 1, 1997, the company's operations were taken over by the third generation and are presently under the control of Andre, Richard, Jacques, and Pierre Cholette. Alexandria has a 68,300 square feet warehouse facility located in LaPorte, Indiana. It became the company's second Distribution Centre when it opened for business on March 29, 2005. The increasing demands for space resulted in the construction of a 220,000-square feet ultra-modern distribution center in Alexandria, Ontario.
Resources
Address
101 Grant Way
Moxee, Washington State 98936 United States
Contacts
1-800-267-1773
1-800-265-8746