About ALLWAY TOOLS INC
Manufactures Paint Sundry, Drywall, And Other Home Improvement Tools.
SHOP ALL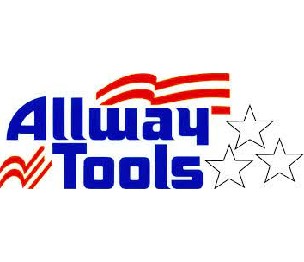 OVERALL CUSTOMER RATING
Company Profile
Louis Gringer founded Allway Tools Inc. in 1935. It all started with a concept for a pistol grip hacksaw purchased from a customer at the family hardware store in New York. Louis Gringer then designed a four-way keyhole saw and named it All-Way Handy Saw because the blade was locked in four different positions. This name had such close associations with the company that the owners eventually adopted it, although the company was initially known as Ultra Mfg. Co.
Allway
Tools'
leadership in safety knives has caused risk management departments of Fortune 500 companies to incorporate such items into warehouse and office use for reduced incidence of minor accidents. The company's primary focu
s is
prov
iding
high-quality products that are easy to use and safe for the user and the environment. You can find a range of products
from
A
llway
Tools Inc.here 
at DK Hardware.
Allway's beginning can be traced back to the 1930s with a single product idea. The company has continued its tradition of technological innovation, meeting the demands for value-added products from contractors, dealers, and consumers. Decades later, Allway has continued to stay ahead of the competition in tool design and technology and now possess more than 100 patented products. 
Allway Tools Inc is located in the Bronx, New York. It completed the construction of its current facilities around 2005, which doubled its size to 80,000 square feet. This state-of-the-art plant features complete R&D, manufacturing, warehousing, CAD design, shipping, and administrative facilities. 
Extensive Range of Products 
Allway Tools has a range of high-quality products that stand the test of time. Apart from paint scrapers and other removal tools, its product line includes blades and utility knives, specialized tools for drywall, ceramic tile, wall coverings, masonry, and flooring. 
Resources
Address
1255 Seabury Avenue
The Bronx, New York 10462 United States
Contacts
Email: Sales@AllwayTools.com
+1 718-792-3636