Commercial facilities and businesses are often at risk for attack or robbery, a potential threat against employees and customers. It's an unfortunate fact, but active shootings are becoming more frequent in schools and workplaces. According to reports, mass-shooting cases jumped almost 50% in 2020. This was primarily attributed to the pandemic, which has caused crippling unemployment, violent protests and tolls taken on mental health.
In case of a dangerous situation, you will want the highest-rated bulletproof materials standing between you and the criminal threatening your safety. There are many different types of bulletproof options to consider in your hunt for the best ballistic defense. Read on to understand the various bulletproof options before improving your workplace safety.
Brixwell BRFL33X9 3' W X 9' H Bullet Resistant Fiberglass Panel
Bullet Resistant Wall Panels are an excellent choice for securing counters, booths and walls of guarded enclosures. These wall panels safeguard employees and customers from firearms in banks, police stations, jails and places where cash or valuables are handled. Each panel's densely-packed structure is capable of absorbing multiple impacts from high-velocity projectiles, limiting ricochet or shattering. Flat sheets of polyester laminate are reinforced with a fiberglass scrim to create a material with high durability.
Quikserv BRL1-0308-01 Bullet Resistant Panel Level 1 3" W x 8" L
There is absolutely no room for compromise when the lives of your employees and customers are at stake. Use Bullet Resistant Panels from Quikserv to protect the walls around your pass-thru system and ensure complete security. These panels feature a consistent resin-to-fiber ratio to effectively capture projectiles.
CRL BRF100 Bullet Resistant 1/4" Thick Fiberglass Panel Protection Level 1 MPSA.
CRL's Bullet Resistant Fiberglass panels are specially designed for lining doors and walls surrounding security enclosures. They meet UL 752 ballistic performance requirements and the bullet-resistant requirements set by the National Institute of Justice. Their polyester laminate-reinforced design provides tensile strength, heat resistance and excellent performance, even under extreme temperatures.
TSS Bullet Resistant Fiberglass
Bullet-resistant materials can both protect employees and discourage firearm crimes. Typically used behind drywall, millwork and countertops, TSS Total Armor Bullet Resistant Fiberglass is an opaque panel that acts as a subtle, bullet-resistant barrier. This panel is press-molded between steel plates that progressively delaminate as a bullet penetrates, distorting and flattening the projectile and dissipating the energy. It is well suited for financial institutions, government facilities, data centers, medical and corporate offices and more.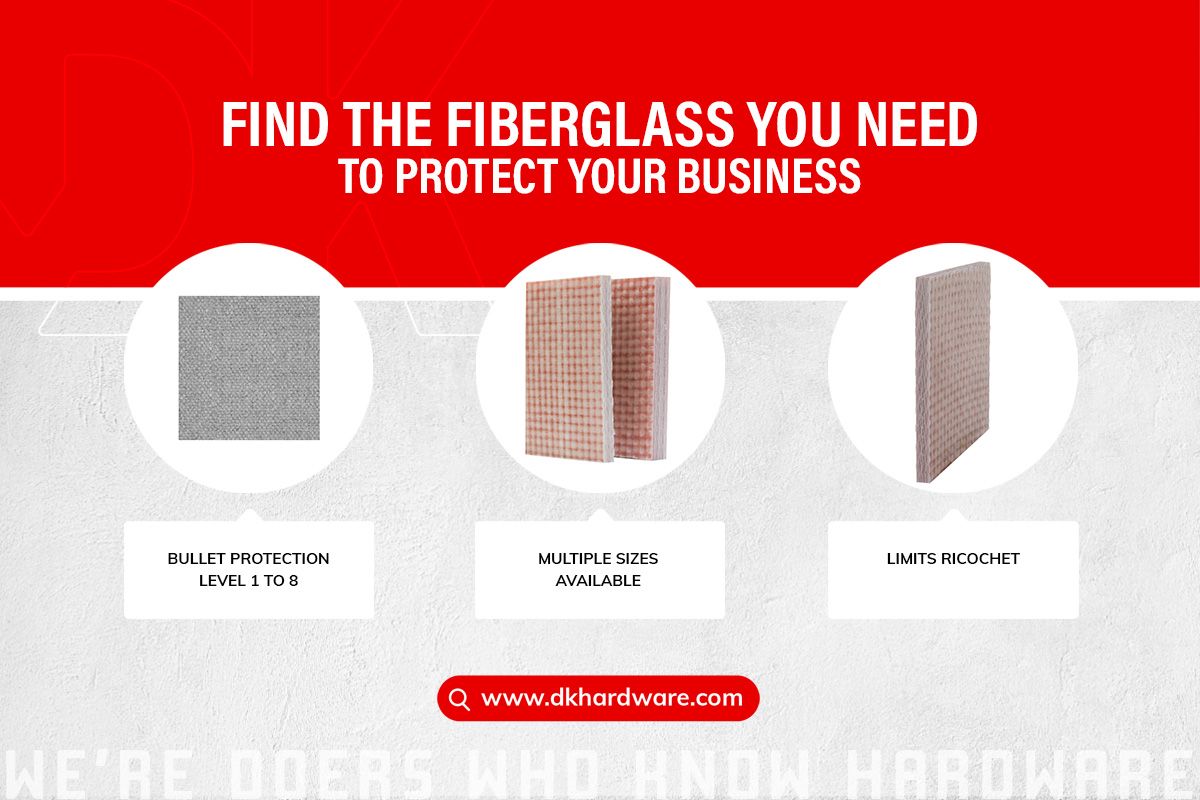 To choose the right bulletproof product, assess the needs of your business, any potential threats posed and your desired protection levels. DK Hardware is here to help. Click any links in this blog to be redirected to some of our many security solutions. For any specific questions, feel free to reach out to us!
For quotation contact via email: sales@dkhardware.com or Toll Free: 877-509-8040