About Corbin Russwin
Providing Door Security Solutions.
SHOP ALL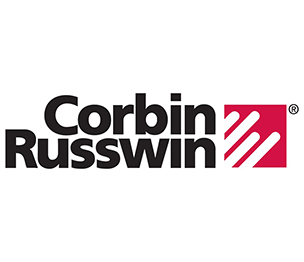 OVERALL CUSTOMER RATING
Corbin Russwin is the name you can trust for commercial and institutional door hardware solutions. Part of one of 20 brands under ASSA ABLOY Door Security Solutions, we have a manufacturing facility in Berlin dedicated to satisfying end-user needs for security, safety, and convenience. We offer mortise locks, cylindrical locks, exit devices, door control hardware, high-security key systems, and electromechanical hardware with unbeatable quality and durability.
Corbin Russwin provides a full range of products and services for all your door hardware needs. From healthcare solutions that minimize germ transmission to blast-resistant solutions that equip you with a safe and secure door, the Corbin Russwin catalog is sure to have the products you need.

Founded in 1839, Corbin Russwin is a leading commercial-grade hardware company. In 1902, we merged with P. and F. Corbin as the American Hardware Corporation. In 1964, the Corbin and Russwin brands gave way to Corbin Russwin.
Opening doors has never been easier than with our mortise locks and key blanks. Our locks make any residential, educational, or corporate space safe and secure.
To protect healthcare providers and patients from harm, Corbin Russwin door closers and Corbin locks are built with high-grade commercial hardware and provide a sleek finish.
The challenge with high-traffic door opening is the continuous build-up of bacteria and microbes. To resolve this challenge, our door hardware products come with a silver-ion-based anti-microbial coating that destroys bacteria.
Blast Resistant Solutions
Our range of blast-resistant locks has a robust design that is best suited against the excessive force from explosions, winds, and other kinds of blasts. Our Bl6600 Series meets the most stringent blast test standards in the industry.
Resources
Address
225 Episcopal Road
Berlin, Connecticut 06037 United States
https://www.corbinrusswin.com/en/