quick order form
Add items one at a time by entering their sku.
submit purchase order via :
Mail : 208 NW 6th Ave, Hallandale Beach, FL 33009
Phone : 1-954-556-6667
Fax : 1-305-514-0047
Email Id :sales@dkhardware.com
Questions? We can help! 877-509-8040

Use your own order form
OR
Traditional experience and expertise
With a history dating back to the 1800s, Dexter-Russell, Inc. carries the reputation of being the largest manufacturer of professional cutlery in the US.
Strong heritage

Dexter-Russell carries forward the traditional values and learning obtained by its parent manufacturers - Harrington Cutlery and John Russell Cutlery.
Introducing Dexter
Henry Harrington – the man who found the first cutlery company in the USA in 1818 - introduced the trade name Dexter – a line of fine cutlery.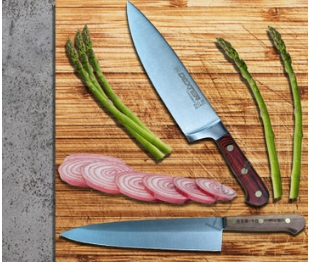 From axes to knives
John Russell established a company called the Green River which produced chisels and axe heads. The fine design and detailing of the products led to its expansion into cutlery.
The big merger
The 1933 merger between Harrington Cutlery Company and John Russell Cutlery Company led to the birth of Russell Harrington Cutlery Company.
Inception of Dexter-Russell
In 2001, the Russell Harrington Cutlery Company changed its name to Dexter-Russell, Inc. going by its product brand identity.
Company Profile
As proud successor oldest American cutlery manufacturers - John Russell Cutlery and Harrington Cutlery Company Company - Dexter Russell Inc., has been serving the food services industry since ages. Throughout the long and rich history of being in the business, the company has maintained a tradition of superiority in workmanship as well as materials.