TOP CATEGORIES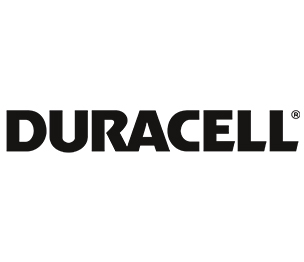 Duracell is the world's leading manufacturer of high-performance alkaline batteries, specialty cells, and rechargeable batteries. The company was founded in the early 1940s and has since become an iconic source of personal power. Find a range of Duracell products here at DK Hardware.

Company Profile
Duracell Inc. is the world's leading manufacturer of high-performance alkaline batteries, complemented perfectly by a strong portfolio of specialty cells and rechargeables. Their batteries power many devices across the globe like torches, smoke detectors, heart rate monitors, game consoles, headphones, and toys. Since the brand's foundation in the early 1940s, they have become an iconic personal power brand, trusted for compact and longer-lasting batteries. As the world leader in the personal power category, the company keeps innovating and keeps introducing more powerful, compact, and longer-lasting batteries than competitor brands. It is currently owned by Berkshire Hathaway group.

Duracell's story began in the early 1920s with Samuel Ruben, an inventive scientist, and a manufacturer of tungsten filament wire named Philip Rogers Mallory. Samuel Ruben came to the P.R. Mallory Company looking for a piece of equipment he needed for experimenting. Here Ruben and Mallory saw an opportunity of uniting Ruben's inventive genius with Mallory's manufacturing muscle. Their partnership was the bedrock of Duracell International.
The brand's first alkaline batteries are marketed under the Mallory brand name. These new generation batteries were specifically designed for and supplied to Kodak for its energy-hungry Instamatic camera with built-in flash. In 1965, the Duracell brand name was introduced and pushed for consumer-driven products and programs. They begin directly supplying batteries to Agfa, Kodak, and Polaroid, for portable consumer devices such as tape recorders and walkie-talkies. In 1969, Duracell became a part of the Apollo 11 mission by sending the first battery on the moon.
Global Presence
In 1971, Duracell introduced its iconic copper and black colors, which symbolize its battery formula's strength, conductivity, and superiority. The brand's batteries are the first to advertise on TV and quickly become part of the everyday household vernacular. In 1973, Fitzgerald and Sample created the memorable 'Drumming Bunny' TV advertisement in advertising agency Dancer. Ever since the bunny has symbolized Duracell's superior battery longevity compared to ordinary batteries. Over the years, the playful Bunny character has evolved from a simple toy into a well-loved brand icon which adds warmth and personality to the Duracell brand.

The brand's ambition is to be the first choice for powering devices most relevant to the consumer. On average, Duracell sells 63 products every second around the world, and more and more devices are being launched that require battery power.
The brand has a rich history of innovation through continuously developing batteries that are more powerful, compact, efficient, and longer-lasting than competitor brands. We have power banks, alkaline batteries, and hearing aid batteries.
Responsible Organization
Duracell Quality Assurance exceeds the requirement of the ISO 9000 standards, and specifies the highest quality of raw materials, rigorous testing and inspection of performance and energy usage. Each single Duracell battery is quality checked before leaving the plant to ensure maximum performance.