First in Food Safety Innovations.
SHOP ALL
TOP CATEGORIES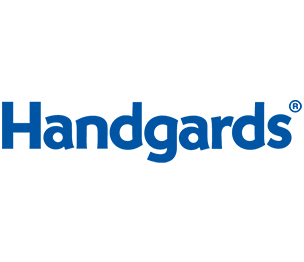 Handgards is a chief manufacturer and supplier of the finest food service disposable products, including gloves, protective apparel, bags, and flexible packaging. For over 60 years, the brand retained the number one position as the North American leader in the field of food service plastic disposables. The brand has thrived by providing products that encourage food safety initiatives. Handgards was aquired by Wind Point in October 2020; Wind Point's value creation plan focuses on expanding the manufacturing operations, growing the company's product line, and executing strategic acquisitions.
Handgards is a well-known supplier to schools, colleges, prisons, hospitals, and institutional feeders. Due to successes with several major broad-line distribution accounts, and regional and national chains, the Handgards name is becoming more widely known. Today, the brand remains a leader in the institutional foodservice industry by providing a number of products through its sales force and its independent broker network. The company's products are sold throughout North America to an extensive base of broad-line distributors, group purchasing organizations ("GPOs"), and national foodservice accounts. Find a range of Handgards products here at DK Hardware.

Founded in the year 1959 as Plasticsmith, the company officially became Handgards in 1966 under the leadership of T. Hamil Reidy. During the 1960s, Handgards marketed disposable gloves through hair care product manufacturers, mail-order houses, department stores, and veterinary, physicians, laboratory, and safety supply houses. Today, the company employs nearly 300 people at the El Paso manufacturing plant, distribution center, and corporate offices.
During the 1960s, Handgards introduced disposable polyethylene gloves to the food processing trades and school foodservice. The entire foodservice industry soon adopted disposable gloves to prevent contamination of food from the hands of workers preparing and serving foods. Soon a wide variety of high-density polyethylene (HDPE) fast-loading sandwich bags for cold and hot applications, deli bags and food storage bags, and aprons were added to the product mix.
State-of-the-Art Machines
Since their arriving in El Paso in 1973, the company has grown tremendously. The 250,000-square-foot facility houses various state-of-the-art machines that do an excellent job of handling the process of transforming millions of pounds of resin into plastic products such as plastic steak marker. The company's manufacturing facility located at 901 Hawkins Blvd produces thousands of products daily. 
As Handgards expanded its markets, it remained focused on value-added and cost-saving products. As a result, it has become a significant importer of various products. This move has allowed the brand to focus on its core manufacturing strengths in El Paso and continue developing new and innovative products. The company's owners, management, and employees are committed to maintaining a leadership position in the industry and being a viable contributor to the El Paso community.