TOP CATEGORIES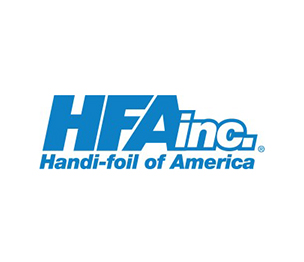 Company Profile
Handi-foil corporation is a manufacturer of high-quality, recyclable aluminum products committed to quality, convenience, and innovation. Founded in 1950, the brand has accumulated the knowledge and experience necessary to stay on the cutting-edge of technology and innovation. Being the industry leader, the company offers a complete line of dome lids and foil containers, including traditional, high-end, and seasonal bakeware items.
With its innovative product lines like Cook-n-Carry®, BBQ Basics®, iChef®, and FunColors®, the brand has become one of the most respected companies in America. The brand looks forward to serving its customers for more years to come. You can check out Handi-foil Corporation's product line here at DK Hardware.

World-Class Manufacturing Facility
The brand's recyclable, American-made products are manufactured at our three hi-tech facilities in Naperville, Wheeling, and Antioch, Illinois. They are approved under the supervision of the Orthodox Union and bear its emblem. The brand is known for manufacturing a range of products such as steam pan, roll foil, foil sheet, container, and much more.
Handi-foil corporation's innovation in the foilware category has cemented its place as a pioneer. Its most recent innovations were the introduction of The Royal Family of King Roasters and CrispBake foil bakeware. They are strong, sturdy, deep, reliable, and come in various sizes in both rectangular and oval shapes, and are sure to suit your different roasting needs. The brand's CrispBake foil bakeware is insulated and dual-layered and helps to ensure crispy crusts for pizzas, crisp edges for crispy bottomed cookies, and brownies that are sure to please all.
Committed to the Environment
The brand introduced Eco-Foil to the market in 2010. It was the first and only line of foil containers made exclusively from 100% recycled aluminum. The brand was the first to transition away from poly-bagged packaging to shrink-banded packaging in 1992, which saves tons of materials annually. Also, the brand was the first to introduce the "Stack Pack" in 1986, a single-piece display heavily packed with merchandise that saved energy and corrugated materials since it was much more efficient to ship.
The brand wants to be the partner of choice in foil bakeware solutions for the markets we serve. Thanks to the brand's unparalleled engineering capabilities, it takes pride in its ability to not only ideate but to create the physical products it delivers to its customers.