TOP CATEGORIES
When it comes to commercial cleaning, the first name that comes to mind is Hoover. Hoover commercial's products are designed to help you increase productivity without compromising your budget. Our cordless cleaners are all powered by the HVRPWR 40V lithium-ion battery to enable you to clean up to 8 times faster. Check out Hoover Commercial's range of products here at DK Hardware.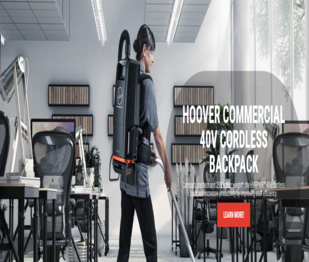 Hoover Commercial is known for its cordless cleaning and commercial-grade floor care product design. The brand's Commercial Cordless Electrostatic Sprayer features electrostatic technology to provide maximum coverage. It delivers the productivity you expect from cordless without compromising your bottom line. The products are powered by a highly efficient battery system, allowing you to do more work in one go. So, if you are looking for the answer improved productivity and performance then look no further than HOOVER Commercial.
How the Company Came to Be
The Hoover brand was born when a janitor invented the suction sweeper to clean his business. From that very first suction sweeper to today's cordless innovations, we're committed to bringing intuitive products that make cleaning better. Our Hoover Commercial HVRPWR™ 40V Cordless Cleaning System helps you get the labor savings you need to redeploy resources by helping you clean more space in less time.
Hoover Commercial is a worldwide supplier and manufacturer of home innovation products have cemented the company as a global leader in the automation industry. Its recognizable brand is trusted in a number of countries.
The brand wants to be the partner of choice in home improvement products for the markets we serve. Thanks to the unparalleled engineering capabilities, the brand takes pride in its ability to ideate and create the physical products it delivers to its customers.
The brand is renowned for making high-quality products that stand the test of time and deliver a remarkably powerful performance. Some of the brand's top products include batteries and vacuum cleaners.