quick order form
Add items one at a time by entering their sku.
submit purchase order via :
Mail : 208 NW 6th Ave, Hallandale Beach, FL 33009
Phone : 1-954-556-6667
Fax : 1-305-514-0047
Email Id :sales@dkhardware.com
Questions? We can help! 877-509-8040

Use your own order form
OR
A part of Henkel since 1997
Founded by Dr. Vernon Krieble in basement laboratory of Trinity College in Connecticut in 1953, Loctite became a brand of Henkel in 1997.
Strong commitment to R&D
With a strong commitment to research and development, Loctite surpasses its competitors in producing technically advanced products to speed manufacturing processes, improve quality and reduce costs.
Working with the customers
The brand works to develop ideas and concepts into real solutions, through efficient use of resources to make advances that benefit of everyone.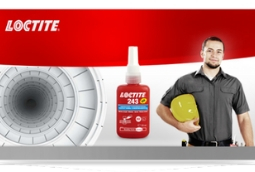 Solving the unsolvable
In the 1960s, Loctite developed the cyanoacrylate – superglue with fast, room-temperature curing adhesive. Throughout its history, Loctite has continuously created such efficient solutions for "unsolvable" problems.
First anaerobic adhesive
Loctite is credited for developing a unique anaerobic technology – threadlocker - to be used on threaded metals for curing at room temperature.
Sealants to stop leaks
The brand produces excellent dynamic tread sealants which ideal to seal joints and pipes. These sealants endure vibrations, changing pressures and changing temperatures.

Company Profile

Loctite was founded in 1956 by Dr. Vernon Krieble, who was a chemist at Trinity College in Hartford, Connecticut. Loctite's first product was a synthetic sealant Professor Krieble had been working on in the chemistry laboratory. Today, Loctite has been acquired by Henkel AG & Company and has secured a position as a global adhesives and sealant producer.
Loctite is an American brand of adhesives, sealants, and surface treatments. Product lines include acrylic, anaerobic, cyanoacrylate, epoxy, hot melt, silicone, urethane, and UV/light curing technologies. Loctite offers its services in the industrial and consumer markets globally, covering more than 80 countries. The company provides more than 1,000 types of high-technology sealants, adhesives, and coatings. Loctite focuses on providing exceptional customer service through innovative solutions to manufacturing problems.