About Pfister
Specializing in crafting premium kitchen, bathroom and shower products, including Hardware & Accessories such as valves and safety options.
SHOP ALL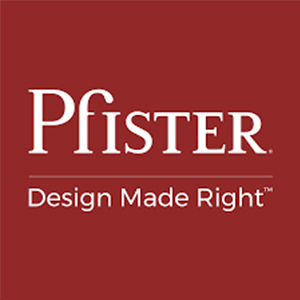 OVERALL CUSTOMER RATING
Company Profile
Pfister has a legacy of over 100 years of industry-leading innovations. They specialize in crafting premium kitchen and bathroom faucets and a comprehensive selection of bathroom and shower products, including Hardware and accessories such as Valves and Safety options. As the first faucet company certified by EPA WaterSense, they've set the standard for environmental responsibility, introducing ground-breaking features like ceramic discs in shower body sprays and a separate volume and flow control system. Pfister is also a proud member of the Assa Abloy Group, continuing to shape the future of kitchen and bath solutions.
Pfister presents a versatile line of products, including cartridges for 0x-8 valves, polished chrome round wall flanges, and ceramic cartridges for hot and cold applications. Our collection encompasses tub and shower components, seats, faucet stems, and handles, showcasing durability and style. Pfister's offerings cover a broad spectrum, from the precision-engineered brass tub union nut to the elegant Avante tub and shower handle. Simplify maintenance with push and seal drain assemblies, chrome tub strainers, and reliable ceramic cartridges. Whether you need specialty items like spout o-rings or valve stems, Pfister ensures quality and innovation. Enhance your space with Verve index buttons, faucet stems, and seals, and trust our shower valve with stops for lasting performance. Choose Pfister for a harmonious blend of style and reliability in every product.
Where Design Meets Customer Needs
At Pfister, our commitment to customer-first design reflects our understanding that modern consumers prioritize style, conservation, and innovation. Based in California's design hub, our team collaborates seamlessly across marketing and engineering, ensuring our creations align with customer needs, preferences, and technological advancements. With a shared dedication to crafting functionally beautiful pieces, our esteemed design team brings expertise and passion to every project.
Advantage in Quality and Service
At Pfister, quality is not just a descriptor but an integral commitment. Rooted in the pillars of quality, performance, service, and affordability, the products undergo advanced manufacturing and rigorous testing. These competitively priced items include a lifetime leak-free promise, finish and function guarantees, and the Pfister Pforever Warranty, which assures defect-free performance since 1997. Explore our range conveniently on the DK Hardware website for quick purchases at the best prices, ensuring secure transactions and prompt home delivery.

Resources
Address
19701 DaVinci
Lake Forest, California 92610 United States
Contacts
949-672-4000
1-800-433-1835
https://www.pfisterfaucets.com/