About Rola-Chem Corporation
Providing diverse products and maintenance solutions for the pool and spa industry.
SHOP ALL
TOP CATEGORIES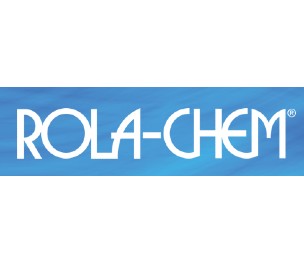 OVERALL CUSTOMER RATING
Company Profile
Rola-Chem Corporation has built a lasting legacy of innovation that spans over fifty years, driven by an unwavering commitment to excellence. Throughout this journey, Rola-Chem has harnessed the expertise and best practices of certified pool service professionals to elevate the pool experience. They've collaborated with both large pool service companies and small owner-operator businesses, remaining steadfast in their focus on enhancing pool water quality systems for both commercial and residential installations.
At Rola-Chem, the trusted Rola-Chem peristaltic pump stands as the cornerstone of their product lineup. While their pump/controller systems maintain their core function of programmed chemical dosing and monitoring, Rola-Chem's unwavering commitment to innovation is fueled by invaluable insights from pool service professionals. This dedication keeps Rola-Chem at the forefront of the pool maintenance industry, delivering solutions that meet the ever-evolving requirements of professionals and pool enthusiasts.
Rola-Chem offers a comprehensive range of products and accessories aimed at simplifying pool and spa maintenance. Rola-Chem's product line comprises
Orp Probes
, Control and Monitoring Systems, Pro Series Pumps,
Pool Chemical Dispensers
, Flowmeters,
Chemical Tanks
, Miscellaneous items, and innovative solutions like the Generation II Digital pH/Dual ORP/FAC (ppm) Controller and Ready-to-Mount Systems. Meanwhile, Paradise Industries complements these offerings with accessories such as the Ultra Mitt cleaning glove, Ultra Patch pool cover patch, and Ultra Strip solar cover patch, all designed to streamline pool and spa upkeep. With a focus on user-friendly equipment, efficient ordering, and comprehensive support, Rola-Chem is a leader in providing maintenance solutions for the pool and spa industry.
Rola-Chem's Legacy of Pool Perfection
Rola-Chem's dedication extends beyond product quality; they provide essential services for pool and spa professionals, including instructive videos for system setup and troubleshooting. With over fifty years of collaboration with certified pool service experts, Rola-Chem has honed their products to perfection, striving to deliver the ultimate pool experience through innovation and unwavering commitment to water quality systems in both commercial and residential settings, ensuring maintenance is made easy.
A Time-Tested Partnership
The partnership between Rola-Chem and pool service professionals has enabled the brand to stand the test of time. Their legacy of innovation and dedication to improving pool water quality systems has been the cornerstone of their success, as they continue to provide state-of-the-art solutions for the pool and spa industry. By staying true to their mission of making maintenance easy, Rola-Chem has earned the trust of professionals and enthusiasts, ensuring that every pool and spa owner can enjoy a hassle-free and enjoyable experience.
Rola-Chem products are available on DK Hardware, benefiting both business customers and DIY enthusiasts. For them, this means streamlined procurement of essential pool maintenance equipment, ensuring efficient service delivery.