quick order form
Add items one at a time by entering their sku.
submit purchase order via :
Mail : 208 NW 6th Ave, Hallandale Beach, FL 33009
Phone : 1-954-556-6667
Fax : 1-305-514-0047
Email Id :sales@dkhardware.com
Questions? We can help! 877-509-8040

Use your own order form
OR
SCHAUB & COMPANY
How It All Started
Schaub was founded in 1998 by a team of husband and wife, Bob and Marcia Schaub in Grand Rapids, Michigan. After working for years in the cabinet hardware industry, they saw a need for a different kind of a company, one that is based on three values as its foundation: quality, service, and unique designs.
Slow but Steady Growth
The brand began with a small family of employees who knew every product in detail and could assist every customer ably. As the cabinet hardware catalog grew over the years, so did the company. The company ensured customers receive their order in a timely manner, with a quick turnaround from order, to shipping and delivery. Schaub remains a tight-knit community with experience and knowledge; every customer receives the highest standard of customer service.
Expert Craftsmanship
The brand's cabinet hardware is created with expert craftsmanship and passion. Every product they make is rich in detail and design that make a home truly stand apart. Their popular collections like Symphony are unlike anything else the market has ever seen. The brand offers knobs and pulls in every style, from contemporary, sleek to ornate luxury.

Partnering for Growth
To take their company to another level, the brand partnered with ASSA ABLOY in 2010. This partnership was a natural step and the brand continues to strive to create the best product for its customers. Schaub has affiliated companies in the U.S. including Sargent, Emtek, Medeco, Curries, Arrow, McKinney, H.E.S., Securitron, Yale, Graham, Rixson, Corbin-Russwin, Norton, Folger-Adams, PEMKO, and Adams Rite.

Traditional Style
The company's traditional style hardware includes a selection of strong, flexible, and stylish appliance pulls, cabinet pulls, and doorknobs from collections like Menlo Park and Northport– all premium and appealing.
Symphony Elegance
From cup pulls to cabinet pulls and doorknobs to appliance pulls, all products we make and sell under this selection are nothing short of elegance personified.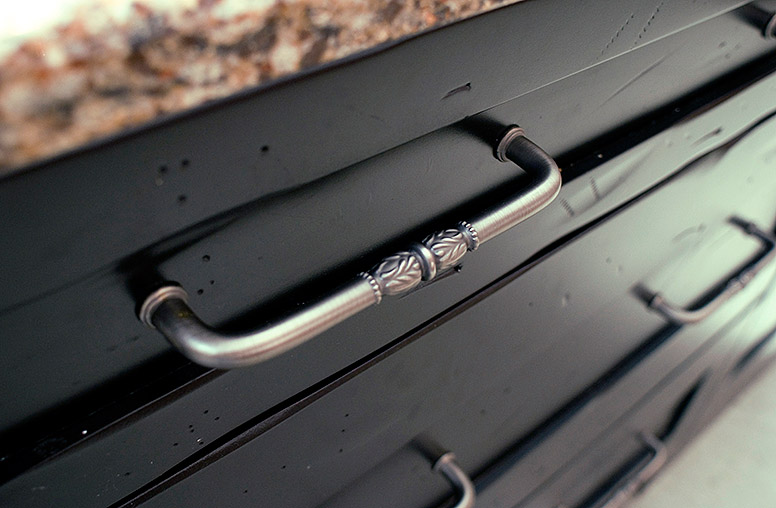 Each product from Schaub & Company is created with intense passion and expert craftsmanship. Decorative cabinet hardware in all styles from contemporary to luxury, with rich design and detailing, Schaub's products are unlike anything else on the market. Find a range of Schaub hardware products here at DK Hardware.

Found in 1998 by Bob and Marcia Schaub in Grand Rapids, Michigan, Schaub & Company is a premium company for specialty cabinet hardware. Courtesy of their unparalleled service, quality, and unique designs, the brand's cabinet hardware catalog has become a global favorite. In 2010, the brand became a part of ASSA ABLOY, which is a global leader in door opening systems and solutions. Schaub continues to offer new designs and professional finishes and lead the industry.