TOP CATEGORIES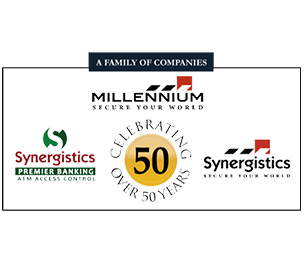 Synergistics Premier Banking consistently provides security solutions to many leading financial institutions all over the world. Synergistics created the first ATM access control system and continues to innovate the industry today.
Found in 1960, Synergistics Premier Banking has been innovating and providing complete access control systems. Their systems deliver reliability, constant safety, and supreme security.
Keeping You 'Security Aware'
Since 1960, Synergistics has provided innovative control systems that keep its users mindful of their safety.
Across the globe, there are more than 100,000 systems from Synergistics Premier Banking that are installed and used.
Synergistics Premier Banking provides a security-related solution for any application.
Synergistics Premier Banking is an access control partner for various financial institutions like Citibank, Chase, HSBC, Wachovia, etc.
All systems from Synergistics are self-contained and require no expensive computer or software for assistance.
The highly durable products from Synergistics Premier Banking are dominant security providers that are available at affordable prices.