Extra Powerful Fabric & Vinyl Repair Patch Solution
SHOP ALL
TOP CATEGORIES
BEST SELLERS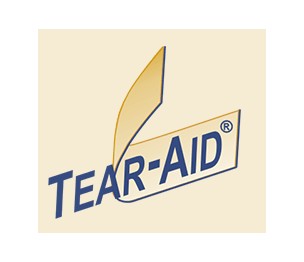 Tearepair Inc. is known for manufacturing Tear-Aid® Repair Patches that provide a simple and easy method of patching holes and tears and act as an excellent protective film solution. Each Tear-Aid® Repair Patch is made from a tough, matte finish, abrasion-resistant elastomer that resists tearing and puncture. It is combined with an aggressive adhesive that is formulated for high bond strength. Tear-Aid expands, absorbing the force on impact, and returns to its original size and shape. This flexibility enables the patch to conform to irregular surfaces without restricting any movement of the repaired material. 
Tearpair's strong dedication to R&D helps it outdo its competitors by manufacturing high-quality products. The brand spends a lot on R&D to improve quality, speed up manufacturing processes, and reduce costs. It's strong international following has been established by manufacturing high-quality products that stand the test of time. You can check out a range of products from Tearepair here at DK Hardware.
Exceptional Properties of Tear-Aid Repair Patches
Tearepair Inc. is known for making the highest quality products that work remarkably well. The company's repair patches do an excellent job of holding air and water under pressure, working with almost all colors, providing instant adhesion with no sewing needed, conforming to irregular surfaces, cutting easily, and being UV resistant. Also, the company's repair patches won't turn gummy in high heat and won't pull off when stretched, making them an exceptional pick.
Extra Powerful Fabric & Vinyl Repair Patch Solution