About Thomas & Betts Corporation
Renowned provider of Connectors, Fittings, Conduits, Raceways, Terminals, and related products.
SHOP ALL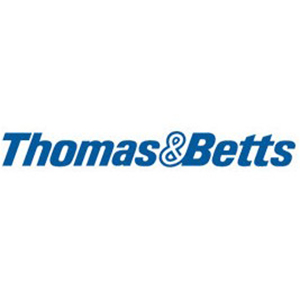 OVERALL CUSTOMER RATING
Company Profile
Incorporated in 1917, Thomas & Betts Corporation is a well-renowned provider of connectors, fittings, conduits, raceways, terminals, and related products that make electrical wires come to life and make life, as we know it, possible. The brand produces fittings and accessories for raceway wires in its electric segment, which counts for around 77% of its net sales. T&B is known for manufacturing high-quality tools and equipment, and the brand has been maintaining the same high standards for more than a century now.
With more than 130 years of excellence, TnB is a leading global technology company that embedded innovation and sustainability to drive performance to new levels. The brand deals in electrification, robotics, automation, and motion portfolio for its consumers. Check out a whole range of products from Thomas & Betts Corporation here.

Authentic Products and Quality Services
By driving advances through a wide spectrum of technologies used in industry, Thomas and Betts Corporation deliver end-to-end value to their consumers. The brand has a rich heritage of inventing new technologies to develop high-quality products and solutions.

Committed to Sustainable Value Creation
Having provided high-power chargers for Germany's first Electric bus depot, Thomas & Betts Corporation embeds sustainability in everything they do. The brand is becoming carbon-neutral in its operations, reducing waste and providing solutions that increase the reusability and durability of the products.
Strategy Focused on Value Creation
Thanks to its strong position in Electrification, Robotics, Motion, and Process Automation, the brand keeps pushing boundaries to implement strategies for improving quality and embedding sustainability. Thomas & Betts Corporation keeps its values at core and glues it together with the community to build and serve the best.
Thomas & Betts Corporation has been in the market for over a decade now. The first step of the brand, TNB, towards innovation was to utilize the new technology called electricity. The brand has helped its customers and clients move to a more productive and sustainable future with time.
The motion business of the brand supplies drivers and motors globally. The brand serves a wide range of automation applications in transportation and infrastructure. Also, Thomas & Betts Corporation provides electrical motors, generators, drives, services, as well as mechanical power transmission products.
Some of the brand's best products include Round Old Work Electric Box, Round Duplex Receptacle Floor Box Cover, Crimping Tool, and much more.

Resources
Address
Affolternstrasse 44
Zurich, Switzerland 8050