Sargent TR-8204 LW1L 10
8200 Series 8204 Trim With LW1 Escutcheon, Satin Bronze
Item #: TR-8204 LW1L 10 by Sargent
In Stock $496.65 /each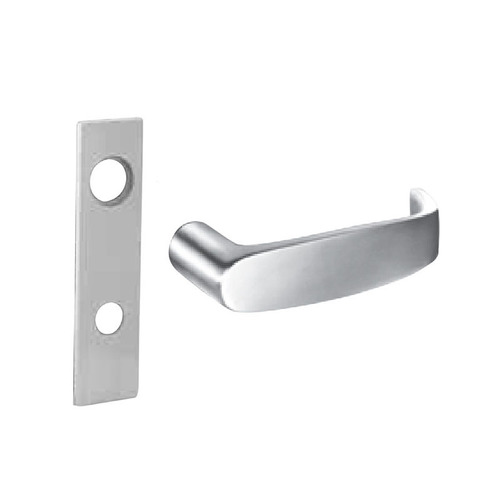 Roll over image to zoom in
Sargent TR-8204 LW1L 10
8200 Series 8204 Trim With LW1 Escutcheon, Satin Bronze
Item #: TR-8204 LW1L 10 by Sargent
In Stock $496.65 /each
QUICK SHIPPING*
Usually ships in

1 business day
30 Days Easy Return. We are the largest supplier of the most adaptable, personalized hardware in the industry. We work hard to ensure you're satisfied with our products.
Aesthetic design. Many escutcheon and lever styles available to match a wide range of styles
available with push/pull trim, perfect for hospital applications
Far Exceeds ANSI/BHMA A156.13 Series 1000 Grade 1 and Security Grade 1. Meets various higher security detention standards such as ASTM impact for deadbolt x latchbolt (Level 1) and latchbolt(Level 3) components
Exceeds cycle testing requirements by 14 times the ANSI/BHMA A156.13 Grade 1 Standard
Heavy duty wrought steel hubs and high carbon steel spring cartridge provide superior strength and cycle life
Latchbolt is stainless steel with 3/4" projection one piece anti-friction reversibile latch
Through-bolted lever trim for increased security
Torx® and spanner screws
Security key systems available (Signature, Keso, KesoF1, and XC)
ANSI/BHMA certified
Meets A117.1 Accessibility Code
UL and UL listed to Canadian safety standards
Meets positive pressure requirements UL 10C and UBC 7-2 (1997)
California State Reference Code
Satin Bronze Clear Coated
L Lever and LW1 Escutcheon
LW1 Escutcheon L Lever, US10 Satin Bronze Finish
8200 SeriesMortise Locks
With its innovative, multi-functional lock body, the 8200 Series Mortise Lock, is considered the industry benchmark for all mortise locks on the market today. It is also the strongest and most durable—far surpassing ANSI/BHMA A156.13 Series 1000 Grade 1 standards in independently verified testing—for additional resistance against vandalism and unauthorized entry.
The electromechanical version of the 8200 Series Mortise Lock operates from 12 to 24VDC and can be used in stand-alone applications or as part of an integrated access control system. Featuring EcoFlex technology, the electromechanical version dramatically reduces power consumption by up to 96%, as certified by GreenCircle.
The patented SARGENT Mortise Locks are designed and constructed with high quality components to provide maximum security, performance and durability. These locks represent over a century of innovation and experience in manufacturing hardware and are the industry's benchmark for mortise locks: strong, durable, flexible, innovative and secure.
Features:
Patented design and construction
Available in 60 different functions, including electromechanical, security and monitoring
UL-cUL listed for three hour fire doors and windstorm applications
Benefits: Strength & Reliability:
Far exceeds independently verified testing. Verified for over 14 million cycles
Ease of Install:
Pre-assembled components make installation fool-proof
Customizable:
A wide variety of functions, lever designs and finishes make this lock ideal for all types of applications
Certification Compliance: ANSI/BHMA:
Certified to ANSI/BHMA A156.13 Series 1000 Operational Grade 1 and Security Grade 1 with all standard trims. ANSI/ASTM F476-84 Grade 40 with concealed mortise cylinder.
Note: LFIC (Removable) Cylinders and SFIC Cylinders do not meet Security Grade 1 requirements.
ADA:
Meets A117.1 Accessibility Code
Meets BOMA International 4.13.8 Complies with American Disability Act; Consult local authorities
UL-cUL:
UL and cUL Listed to US and Canadian safety standards for A label 4 x 10 single and 8 x 10 double (3 hour fire door) and lesser class doors, stamped letter F and UL symbol on armored front indicate listing
Positive Pressure:
Meets ANSI/UL 10C, Positive Pressure Fire Test of Door Assemblies
California State Reference Code:
(Formerly Title 19, California State Fire Marshal Standard)
All levers with returns comply; levers return to within 1/2" (13mm) of door face
Windstorm Certifications: Florida Building Code:
UL Certification Directory:
ZHEM.R21744 – Latching Hardware
Specifications:
For Doors 1-3/4" (44mm) thick standard
Backset 2-3/4" (70mm) only
Outside Front Plate Brass, bronze or stainless steel.
8" (203mm) x 1-1/4" (31mm), ANSI/BHMA Standard A156.115
Front adjustable at any angle from flat to beveled 1/8" (3mm) in 2" (51mm)
Hubs for Knobs/Levers
– 8200: cold forged steel
– R8200: investment cast steel
Auxiliary Deadlatch is stainless steel and non-handed
Specify hand on order; easily field reversible
(if no hand is specified RH will be provided)
Strike: Brass, bronze or stainless steel; ANSI Standard; curved lip, non-handed (strike box optional)
Keys: Two, nickel silver
(control key or emergency key must be ordered when required)
Cylinder: Brass, size #41 (1-1/8") standard
(except for Freewheeling, size #46 (1-3/4"))
Can be masterkeyed or grand masterkeyed.
Construction keying available.
LA standard keyway
Stile: 4-1/2" (114mm) minimum stile for 7800/8200/R8200,
4-3/4" (121mm) minimum stile for electrical function locks
Door Prep:
ANSI/BHMA A156.115 or A156.115W modified per template
Warranty: 10 year limited warranty, 2 year limited warranty on electrified locks.
Warranty limited to replacement of lockbody and/or components.
Maximum Strength & Durability:
Certified to and exceeds ANSI/BHMA A156.13, Series 1000, Operational Grade 1 and Security Grade 1 with all standard trims
Exceeds cycle testing requirements by 14 times the ANSI/BHMA A156.13 Grade 1 standard
Case: 12 gauge heavy duty wrought steel, zinc dichromate plated. Thickness 7/64" (3mm) (.109")
1/8" (.125") cold-rolled steel inside front holds lock securely in door
Heavy duty wrought steel hubs and high carbon steel spring cartridge provide superior strength and cycle life for 8200 locks
Latchbolt is stainless steel with 3/4" (19mm) projection one-piece, anti-friction reversible latch
Deadbolt is one-piece hardened stainless steel with 1" (25mm) projection
Optional 8200 stainless steel hubs for Institutional setting (specify 3- option)
Patent pending and/or patent www.assaabloydss.com/patents
Maximum Flexibility:
Fast and easy installation. Lock is easily re-handed without removing parts or opening the lock case
Aesthetic design. Many escutcheon and lever styles available to match a wide range of styles
Many standard architectural grade finishes, including Polished Nickel (US14) & Satin Nickel (US15) finishes
53 functions including 4 electrical functions. The most in the industry for a broad range of applications
Versatile. Offered for door thicknesses ranging from 1-3/8" (35mm) to 6" (152mm)
Available with vandalism deterrent trim and/or secure fastener options Torx® and spanner screws for high abuse conditions
Available with push/pull trim, perfect for hospital applications
Status indicator options provide peace of mind on the locked/unlocked status of a door
Innovation:
First in the industry to offer a multi-functional lockbody that embodies 8 functions in 1 lockbody
Easy operation. Only 30º of lever rotation required to retract latchbolt
Lever springs contained inside of the lock case for easier installation
SARGENT's revolutionary MicroShield® available. This antimicrobial silver-based finish coating permanently suppresses the growth of bacteria, algae, fungus, mold and mildew. EPA and NSF approved and FDA listed
Broad offering of electro-mechanical configurations offer higher security for the most demanding access/egress control applications featuring ElectroLynx® quick connectors
Security:
Multiple security trim options available: free-wheeling, security escutcheon and anti-vandal pull trim (patent pending)
Security key systems available
(Degree, Signature, Keso, Keso F1, & XC)