About Von Duprin
Offers Panic Bar Hardware solutions including Exit Devices, Electric Strikes and more.
SHOP ALL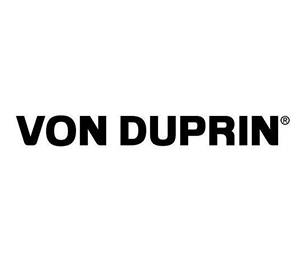 OVERALL CUSTOMER RATING
Company Profile

Von Duprin was found in 1908, when the company introduced its "panic release bar" as a response to the life loss due to a fire incident in Iroquois Theater in Chicago in 1903. Indianapolis hardware salesman Carl Prinzler who escaped the disaster, determined to find a solution for the problem of public buildings, teamed up with Henry DuPont, his neighbor and an architectural engineer, and invented a panic release bar. The first model was introduced in 1908, and was marketed by the Vonnegut Hardware Company as Von Duprin. Since then, Von Duprin has been manufacturing the widest range of trim operations and exit devices, including mortise lock and rim-type, fire-rated, surface and concealed vertical rod, and other electrical options. The security-related products offered include electric strikes, electromagnetic locks, keypad-type access control systems and card readers.

Having served as a mainstay in public buildings for several decades, Von Duprin's products are reputed for their unmatched quality and performance. Apart from quality, Von Duprin devices need significantly less maintenance.
Electric Strikes
The electric strikes offered by Von Duprin are designed to be used along with different types of devices including mortise and cylindrical devices on both single and pair doors.
QM Solutions
The quite mechanical solutions from Von Duprin controls motion to lessen operational noise. The trim solution offers damper-controlled lever return.
QEL Solutions
The quite latch retraction provides electronic control on an exit device to limit the operational noise of the device. It is the best choice for libraries, museums, hospitals, theaters and other places.
Undogging and Monitoring
Von Duprin's Remote Undogging (RU) and Remote Monitoring (RM) options are created to address the market need for enhanced K-12 perimeter security.
Security Indicators
Engineered for high use and abuse environments, such as hospitals and schools, Von Duprin's security indicators are recommended for visual verification and lock down.
Delayed Egress System
Designed to be used in higher security areas like behavioral health and maternity applications, the system keeps door secured for 15 seconds after an exit attempt, to prevent eloping or abduction.
Resources
Address
11819 North
Pennsylvania Street
Carmel, Indiana 46032 United States