TOP CATEGORIES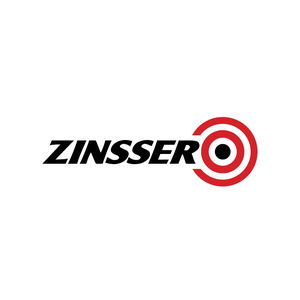 Zinsser delivers world-class products that meet "real world" challenges, providing tried and tested solutions to painting problems. Our patented B-I-N primer (pictured below), for example, has never been matched or bettered! Find a range of Zinsser products here at DK Hardware.
Company Profile
William Zinsser & Company, Inc. is a leading U.S. manufacturer of wall covering preparation and removal, primer-sealers, and specialty decorating products used in residential and commercial remodeling and maintenance projects. Founded in 1848 by William Zinsser, the brand is renowned for introducing the first products in many categories, including: B-I-N, the first shellac-based primer-sealer; DIP, the first commercial solution for removing wall coverings; Bulls Eye 1-2-3, the first water-based universal primer; and Perma-White, the first mildew-proof paint. The brand has been a subsidiary of RPM, Inc., since 1986. It is based in Somerset, New Jersey, and markets its products worldwide.
William Zinsser founded Zinsser in 1849. When William Zinsser emigrated from Germany to the United States in 1948, he discovered that French varnishes and shellac varnishes were unknown to America. Zinsser worked from a home laboratory, developed a product, and soon established the nation's first bleached shellac manufacturing plant, William Zinsser & Company.
The brand has been responsible for creating many industry firsts: B-I-N®, the first shellac-based primer-sealer; DIF®, the first commercial solution for wall covering removal; Bulls Eye® 1-2-3, the first water-based universal primer; and Perma-White®, the first mold and mildew-proof paint. Recently, Zinsser launched Bulls-Eye 123 Plus- a water-based primer delivering performance previously only seen in solvent-based primers.
Zinsser has earned a reputation as a brand that listens to its contractors and develops new products and product categories to meet their changing needs. Zinsser expanded its primer technology to include new high-performance, low VOC primer-sealers; is an industry leader in the development of high-class products that improve wallpaper hanging and removal; and is constantly and continuously researching and developing products for the long-term prevention of mold and mildew. The brand sells spray paints, swimming pool paint, house cleaner and mildew cleaner, to name a few.
Over the years, the brand's name, Zinsser, has become synonymous with quality. The brand's products are manufactured in ISO 9001-certified facilities, ensuring consistent, top-class quality. Their dedication to quality extends to every area of its business. The brand remains true to the traditions of innovation and quality established by their founder, William Zinsser: to develop problem-solving products that people can depend on.