About TownSteel
Providing Locking Solutions for more than 30 years.

SHOP ALL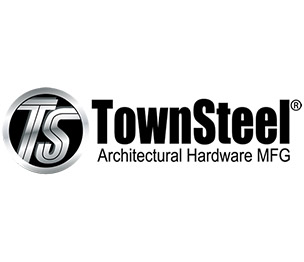 OVERALL CUSTOMER RATING
For over 30 years, Townsteel has been a leading manufacturer of security locking systems. Townsteel offers products ranging from commercial-grade locks to access control systems that are of superior quality. Loaded with quality and excellence, Townsteel has positively impacted the lives of all the users or customers. All our products boast quality and excellence. Thus, making us a BHMA-certified architectural hardware manufacturer.
Townsteel is a leading manufacturer of high-level security locking systems. Townsteel has provided convenience and ease of security control with a wide range of products that it offers. The company has over three decades of experience and various patents under its name, and continues to develop innovative designs for commercial and residential projects. From entrance hardware to custom design hardware, the TownSteel team works hard to meet its customers' architectural and security requirements.
Enhanced Security:
Townsteel and the series of products that it offers have been providing enhanced personal and guest security to all its users.
Unique Management:
The exclusive access control management systems of the Townsteel's products provide a high-level of security and safety to the users.
Easy and Efficient Support:
Whatever may be the query, the support team of Townsteel is ready to help and do their best to make your purchase journey easy and efficient.
Designed to Protect
All the product designs from Townsteel help to improve the protection and enhance the safety of the surroundings.
Resources
Address
17901 Railroad Street
City of Industry, California 91748 United States
Contacts
Email: info@townsteel.com
877-858-0888
https://townsteel.com/