About 3-IN-ONE
Makes general-purpose Lubricating Oil for Household and DIY use.
SHOP ALL
TOP CATEGORIES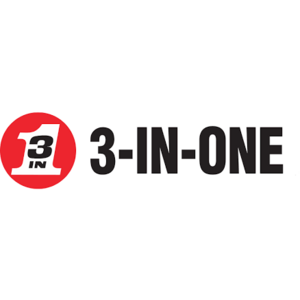 OVERALL CUSTOMER RATING
Company Profile

The 3-IN-ONE company is focused on making it easy for people to solve their maintenance issues. Founded in 1894, it is famous for making high-quality maintenance products; it has been solving problems and making people smile since 1894. This is why the renowned WD-40 company officially acquired the 3-IN-ONE Oil business in 1995 and has been innovating ever since to make the best product with the best delivery systems around.
3-in-One provides world-class solutions for all sorts of home and equipment maintenance projects. The company's first product, 3-In-One Oil was originally formulated in 1894 for use on bicycles, and it still remains a popular lubricant for their chains. It's name reflects the product's triple ability to "clean, lubricate and protect."
In 1894, George W. Cole, a native of Asbury Park, New Jersey, compounds a mixture to achieve three things connected to the care and maintenance of a bicycle. They included a rust preventive, a lubricant, and a cleaner. This formula results in the popular 3-IN-ONE® Oil that realizes three things with one application.
In 1899, this product proved to be an immediate success, and the business grew to massive proportions. The company, G.W. Cole, then incorporated under the laws of the state of New Jersey. The company's name was changed from G.W. Cole to 3-IN-ONE Oil Company in 1909.
In 1933, the capital stock of 3-IN-ONE Oil Company was acquired by Drug Incorporated. At that time, the company became a part of Sterling Products Inc. in 1936, A.S. Boyle Company purchased the brand from Sterling Products Inc. in 1990, Reckitt & Coleman Plc. through its U.S. subsidiary, Reckitt & Coleman Inc., purchased the company. IN 1995, WD-40 Company officially acquired the 3-IN-ONE Oil business from Reckitt & Coleman Plc.
In 2003, the company launched high-performance specialty products essential for the home, shop, and factory. In 2004, the brand added new high-performance specialty formulas to the famous 3-IN-ONE Professional line. The introduction of Garage Door Lube followed it in 2007. In 2012, the company introduced 3-IN-ONE Multi-Purpose Oil to help trade professionals deliver Oil precisely where it's needed — and nowhere else.
Resources
Address
P.O. Box 308
Budd Lake, New Jersey 07828 United States