About A.M. ANDREWS COMPANY
Sprinkler and Soaker Hose
SHOP ALL
TOP CATEGORIES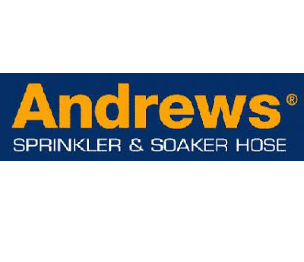 OVERALL CUSTOMER RATING
A.M. Andrews Co. is engaged in manufacturing the 2 tube sprinkler hose for more than 50 years. The Andrews hose is more adaptable, lightweight, soft, and simple to use, thanks to its distinctive design. Other sprinkler and soaker hoses are made with solid walls, making it challenging to unwind and lay them flat on the ground. Andrews hoses are 30% to 65% lighter and 1/3rd the size of typical sprinkler and soaker hoses. The length of Andrews hoses can also be changed. Without using any tools, the end clip may be removed and repositioned to the desired length. Andrews hoses are strong and come with a five-year warranty. 
A.M. Andrews Co.
is committed to a higher form of customer support. The brand's team of experts is available to help with projects, big or small. They know all about
A.M. Andrews
Products, have a substantial level of expertise with construction and DIY projects, and will serve you with an ample amount of care. You can find a range of products from
A.M. Andrews Co.
here
 at DK Hardware.
With a strong dedication to R&D, A.M. Andrews Co. outdoes its competitors by producing high-quality products. The company spends a lot on R&D to improve quality, speed up manufacturing processes, and reduce costs. Its strong international following has been established by manufacturing high-quality products that stand the test of time. 
A.M. Andrews shared principles of sustainability, community, innovation, and consumer value that motivate it as a whole. The things the company develops and how it interacts with the people who manufacture them reflect these principles.
Resources
Address
4621 SW Beaverton
Hillsdale Highway
Portland, Oregon 97221 United States
Contacts
Email: fran@amandrews.com
(503) 244-1163
(503) 244-1245