Swinging open like a door to provide good ventilation, casement windows can be seen in different home styles. They offer a tight seal and their thermal performance rating is excellent. Of course, they are also easy to operate with quality hardware ensuring smooth operation and reliability.
When choosing casement window parts , there are a number of options to suit your requirements. An understanding of the body styles and mounting types can help you select the right parts without any confusion.
How to choose a single arm or split arm operator at the time of replacement?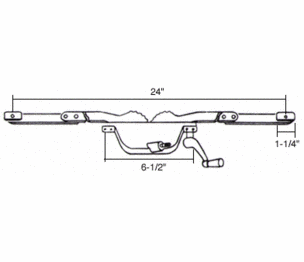 First thing to check is if the base with gears includes a removable cover. In a surface mount operator, the screws go into the jamb vertically to hold the operator onto the jamb. In a face mount operator, the screws go into the housing horizontally. Also check if the face mount operator has through mounting holes or if the holes are blind tapped.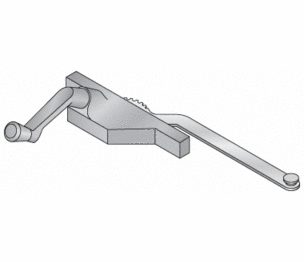 Link arm configurations
Two-linked/Dual/Dyad type operators are designed with a range of link arm configurations. When identifying your replacement operator, factor in the following:
Choose the right operator and measure the short link arm length
See if the link arm has a bend or an offset (up or down) OR if doesn't have an offset and is flat
Check if there is an attachment or side clip; there could be one on top of or the underside of the arm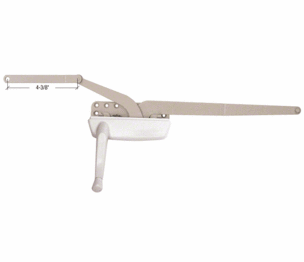 Arm length and spline size
If you're looking at CRL's catalog, keep in mind that the operator arms are measured from the center of the pivot point on the body to the center of the pivot roller, button, or guide.
As far as spline size is concerned, crank handles and T-handles are available in the common sizes of 5/16'', 3/8'' and 11/32''. Only T-Handles are available in the 9/32'' spline size.

Choices in pull lever and roto gear operators
CRL has a vast catalog of left handed pull level operators (this is the most popular and convenient style in homes). However, right hand pull level operators are also available on special request. A top-selling product is the EP27003 Truth Encore Steel Left Handed Dual Arm Operator, available in steel or stainless steel arms. Another is the EP23032 Left Hand EntryGard Dyad Casement Window Operator designed for narrow windows.
Roto gear operators are available with closed arms in Single Sash Pull or Sash Pull styles. Other options include Guide Bar Tracks, Open Arm Dual Pull Operators, and Shoe Brackets.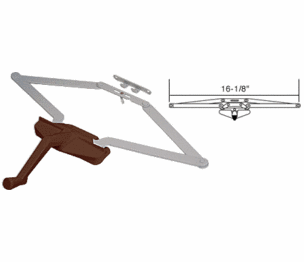 Hinges
Four-bar hinges are available in steel and stainless steel, and in standard duty and heavy-duty styles. Awning window hinges come in four lengths. CRL also has a fresh stock of friction adjustors and limit devices to include in your order.