Overhead concealed door closers are hidden from sight as they are positioned in either the frame or the door. You could potentially choose from a number of product categories, including medium-duty and heavy-duty hold or non-hold open overhead concealed closers from CRL Jackson.
Concealed door closers are extensively used in large stores; bank, public building, theater or school entrances; fast food restaurants; and corridor or public restroom doors. They can be center-hung or offset, and used with aluminum, wood or metal doors. Depending on the model, the closer spring size, dimensions, approximate average opening force, and applicable door sizes may be different.
This post tells you how to order one by understanding the technical specifications denoted by the catalog number for a particular product.
The basics
Consider the catalog number 21101P62801B. The digits and alphabets indicate a specific type/feature that you can match against your requirements to determine the suitability of the concealed door closer. Moving from right to left: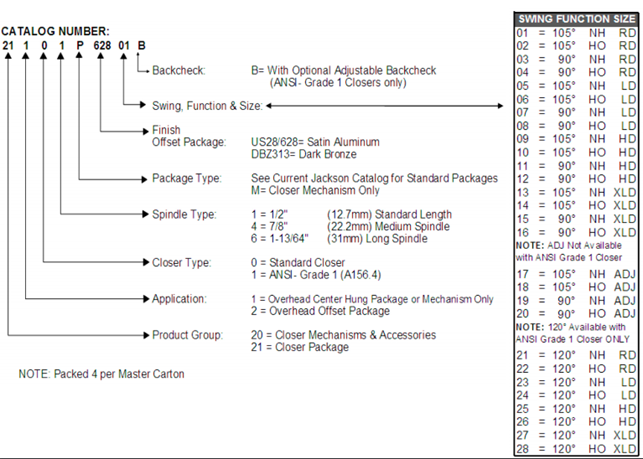 Recommended: CRL Jackson overhead concealed door closer bodies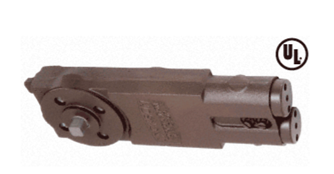 If you're shopping for overhead concealed door closers, check out the medium-duty or heavy-duty non-hold open overhead concealed body from CRL Jackson.
The medium-duty closer bodies have dual valves to control closing and latching speeds. They offer adjustable spring power size 1 (barrier-free) to size 4 (regular). They are available in standard and extended spindle models.
CRL Jackson heavy-duty overhead concealer bodies offer outstanding durability. They feature a long spindle, which makes them ideal for patch fittings and rail hardware. Dual action valves offer closing and latching functionality. They have a ANSI Grade 1 status, stating their suitability for high volume commercial applications.