The surface mounted door closer is the most common type of door closer. It is inexpensive and easy to install. You can have the closer mounted in standard, parallel arm or top jamb configurations. The standard installation is for the pull side of the door, while the top jamb and parallel arm configurations are for the push side.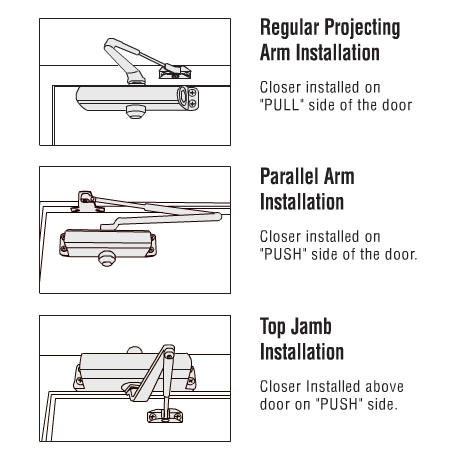 CRL Surface Mounted Door Closer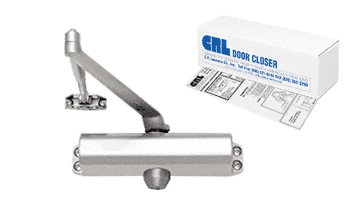 DC50 Series Surface Mounted Door Closers range from Size 1 intended for light commercial and residential applications to a Size 5 for a heavy commercial door applications. With both closing and latching speeds independently adjustable they will satisfy your customer's requirements for smooth operating door control.
The PR80 Series of Multi-Size Adjustable Spring Power Surface Mounted Door Closers matches the common 9-1/16" x ¾" hole template, making it ideal for both new and retrofit applications. The closers adjust in a range from Size 1 through 5 to accommodate doors from 24" through 54" and up to 264 lbs. A Barrier-Free (low opening resistance) model is available to comply with ADA opening force requirements.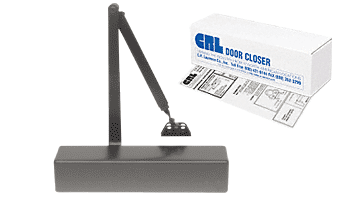 The PR70 Series is a range of spring powered closers that can be ordered for heavy-duty applications or ADA barrier-free uses. They have two key features: backcheck control and delayed action closing.
Majority of CRL closers come with backcheck control that offers adjustment by allowing variable braking from 70 degrees to beyond 90 degrees. This prevents damage to the door and surrounding wall surface. Still, it is best paired with an overhead stop or auxiliary floor. Delayed action closing is an optional feature that includes a third speed range to the closing cycle. It is activated when the door is opened and released at any angle beyond 70 degrees. This feature is especially beneficial in healthcare settings and public buildings that must necessarily comply with ADA regulations.
CRL Surface Mounted Door Closers are available in popular aluminum and bronze finishes, some are also sold in gold, white and chrome.
Options in material
Aluminum surface mount door closers from C.R. Laurence are intended for high-traffic areas such as public buildings, shopping centers and airports. Their decorative design also makes them appealing for residential settings.
Cast iron surface mount door closers are known for their strength and durability. They meet ADA accessibility requirements, and are available with optional accessories such as drop plates and hold open arms for unique installation needs.
Tips on choosing accessories
Depending on the mounting options and applications, a number of accessories are available for surface mounted door closers. They include closer body covers, bolt sets, narrow drop plates, wide drop plates, parallel arm brackets, replacement screw packages, regular closer arms, extended rod assemblies and hold open arms. Another handy tool is the door pressure gauge that helps you determine if the amount of force required to open doors complies with ADA regulations.
Parallel arm brackets for use with regular non-hold open arms
Regular closer arms serve as replacement arms for surface mounted door closers
Hold open parallel arm brackets for use with hold open arms in parallel arm applications
Extended rod assemblies for use with regular arms and reveals of up to 152mm
Closer body covers for slip-on installation
Sex bolt sets for mounting closers to hollow core doors
Replacement screw packages
When replacing a surface mount door closer it is important to compare the dimensions of the existing closer to the new one to avoid mistakes.