About Dap
Leading manufacturer and supplier of caulks, sealants, foam, adhesives, and patch and repair products.
SHOP ALL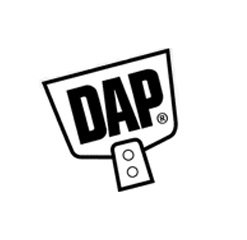 OVERALL CUSTOMER RATING
Company Profile

DAP began its journey in 1865 when Robert H. Dicks and Elmer Wiggim began producing sealing wax for food-canning out of Dicks' garage in Dayton, Ohio. In 1906, Dicks bought out Wiggim and collaborated with George Pontius. Plastic Wood®'s brand got integrated into the DAP portfolio of products in the '90s. Finally, in the 2000s, an exclusive marketing agreement was made with the worldwide leader in antimicrobial technology, Microban International, and the integration of the Phenoseal brand of adhesive caulk. Our mission is to provide solutions to build, renovate, and repair homes worldwide, with confidence from start to finish while demonstrating an intense desire to help others succeed.
Since 1865, when Robert H. Dicks and Elmer Wiggim began producing sealing wax, DAP has continued to innovate the industry. We constantly strive to provide the best quality products to our customers. To get the job done, select a DAP product today!
How We Came to Be
DAP was founded in 1865 when Robert Dicks and Elmer Wiggim began producing sealing wax, and they didn't stop there. For over 157 years, DAP has provided professional contractors, remodelers, and do-it-yourselfers with trusted, reliable, quality, and long-lasting products.
The Revolution
In 1906, Dicks partnered with George Pontius to take the company forward. In 1913, these two incorporated their partnership as the Dicks-Pontius Company. This partnership revolutionized the home repair products market in the 1940s, and '50s through its product development and marketing, including moving the industry to market caulks and sealants in disposable cartridges.
Acquisitions for Growth
During the 1950s, the company grew manifold times through several acquisitions, including a merger with the Chicago-based Armstrong Company in 1957. The resulting entity was given the name Dicks-Armstrong-Pontius, which was eventually shortened to the brand name DAP.
Our Products
DAP makes products for building and living green. DAP is the world-leading manufacturer and supplier of caulks, sealants, adhesives,and patch and repair products. Also, the brand's spray foam insulation finds its application in a number of commercial and residential projects.

Caulks
We offer all-purpose caulks for a variety of uses. Our kitchen, bath, and plumbing sealants are unmatched in quality.
Adhesives
Our adhesives are used for construction, home projects, remodeling, and woodworking. They are easy to use and ensure the completion of your projects.
Resources
Address
307 Integram Drive
Pacific, Missouri 63069 United States