About Sherwin-Williams Paint Company
Bringing creative visions to life with paints and supplies, interior and exterior paints, deck stains, primers, wallpaper, concrete and masonry products, and more.
SHOP ALL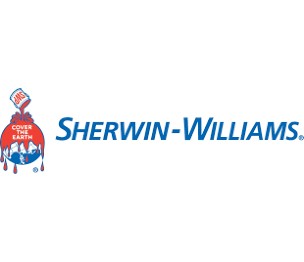 OVERALL CUSTOMER RATING
Company Profile
Sherwin-Williams Paint Company holds a renowned and trusted position in the paint and coatings industry. With a rich history spanning many decades, the company is a leading provider of high-quality paints, primers, coatings, and related products. The commitment to excellence and innovation is what has made Sherwin-Williams a preferred choice for both professionals and DIY enthusiasts. Notably, in 2016, the company introduced the first paint registered as microbicidal with the United States Environmental Protection Agency to the market.
Sherwin-Williams boasts an impressive record of creating over 35,000 color names for paint throughout its history. As of 2023, the company offers nearly 200 distinct shades of white, classified as either warm or cool. Sherwin-Williams Paint Company offers a comprehensive range of product categories, including paints and supplies, interior and exterior paints,
deck stains
, interior and exterior primers, wallpaper products, exterior siding solutions, concrete and
masonry
products, and various other
coatings
and finishing solutions. Some specific product names within these categories include "Copen Blue SW 0068," "SuperDeck," "Spectraprime Color Primer Surfacer," and "Balancing Clear." These categories and products cater to a wide spectrum of project needs, making Sherwin-Williams a versatile choice for all painting and coating requirements.
Transforming Projects with Excellence
Sherwin-Williams Paint Company, with its extensive product categories, caters to a diverse clientele across various industries and project types. Professionals in the construction and painting sectors, including contractors and builders, find Sherwin-Williams a reliable partner for high-quality paints, primers, and coatings that enhance the durability and aesthetics of their projects. Automotive experts also turn to Sherwin-Williams for premium automotive coatings that provide not only protection but also an appealing finish.
Meeting Industry and DIY Needs
DIY enthusiasts and homeowners benefit from Sherwin-Williams' extensive product range, simplifying their home improvement projects. The company's commitment to delivering top-notch products and innovative solutions ensures that DIYers can achieve professional-level results with ease. Sherwin-Williams serves as a trusted name for industrial users, offering coatings and solutions that meet the unique demands of industrial applications. Furthermore, the products' availability on DK Hardware means customers can enjoy the advantages of home delivery, secure payment gateways, and a seamless shopping experience.