Sneeze guards are very common in a commercial food service environment, safeguarding food against contamination from mucous and/or sweat. Banks, store cashier areas, offices and commissaries also use glass partition posts to avoid any infection or interruption from sneezes.
The nuts and bolts of a sneeze guard (sneeze guard requirements)
Glass or acrylic panes
Stainless steel or aluminum partition posts or tubing
U-channel or clamps to connect panes to posts
When building a sneeze guard, you have a number of options to choose from.
Keep in mind that mounted models are secured permanently to a table or buffet area.
Partition tubes/posts are usually available in standard 12'', 18'' or 24" heights; custom cut heights may also be offered by manufacturers.
Sneeze guards come in a number of colors; black powder paint and brushed stainless steel are popular choices, but custom shades, including navy, red or green are also available.
Some models have side panels for extra protection, while others have adjustable front panels that can be slanted (angled downwards) or fixed straight (at right angles). Depending on the requirement and application, the glass can be fixed on the top and front, or only on the front.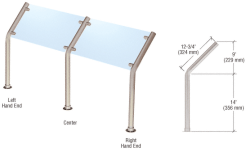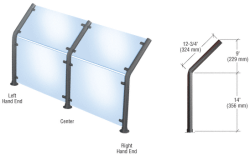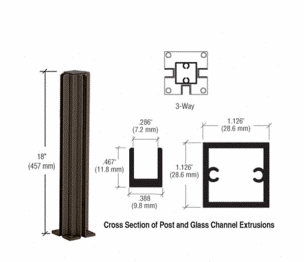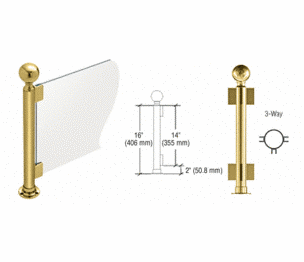 Types of glass
Tempered glass is commonly used in sneeze guards, and widely accepted by health codes set by safety departments. It is highly resistant to pressure and weight, and useful when larger widths of up to 48'' are required. Easy to maintain and quite scratch resistant, tempered glass is the default choice in the food service and hospitality industry (1/4" and 3/8" are two popular thicknesses).
Alternatives include plexiglass and polycarbonate. Both feature more prominently in non-food applications and don't have the scratch-resistant qualities of tempered glass.
Putting together a sneeze guard
Sneeze guards are custom built to adhere to local health and safety standards, as well as the company's specific requirements and budget. Drawings of the parts, design and assembly are provided by the manufacturer, and upon customer approval, production begins and lead times of anywhere from one week to 10 days are standard for the industry.
You can also build a sneeze guard after purchasing the necessary components. With a complete catalog of superior quality sneeze guard systems and accessories, fabricating a system aligned to the design and plan you have drawn up, shouldn't be very challenging provided you have sufficient technical experience.